2017 Social/Digital Predictions (Part 2 - School-Specific Predictions)
Following on from last week's industry-specific predictions, we take a look at 6 predictions for schools in 2017.
So, let's get started...
[1] VR
2017 is a big year for virtual reality (VR). We've already had exciting hardware releases with Playstation VR and Samsung Gear.
Facebook is betting big on VR, with Zuckerberg believing VR will be the future of the platform.
Schools are going to play a big part with VR too - in both education and marketing.
Children in schools are going to grow up and enter a world that has heavily adopted VR - just as computers were. Google are already pledging to bring VR to 1 million pupils in the UK.
We'll start to see more schools using VR inside classrooms. We'll also see schools offering VR tours of the school, and to watch concerts, sports fixtures etc.
There's no more immersive way of a experiencing a school, without physically visiting it, than through VR.
[2] 360 Tours
This is the year of 360. More schools will be recording 360 videos, and offering 360 tours of the school.
We've already set up 360 tours within Google Street View - and this has seen huge success.
This works with VR too. Prospects can put on a VR headset and have a tour of your school. An exciting opportunity for any school - particularly for international schools, where families cannot physically visit the school first.
These can be built directly into Google, and Google Maps. Notice when you search for 'Eagle House School' on Google, it shows a 'See Inside' option.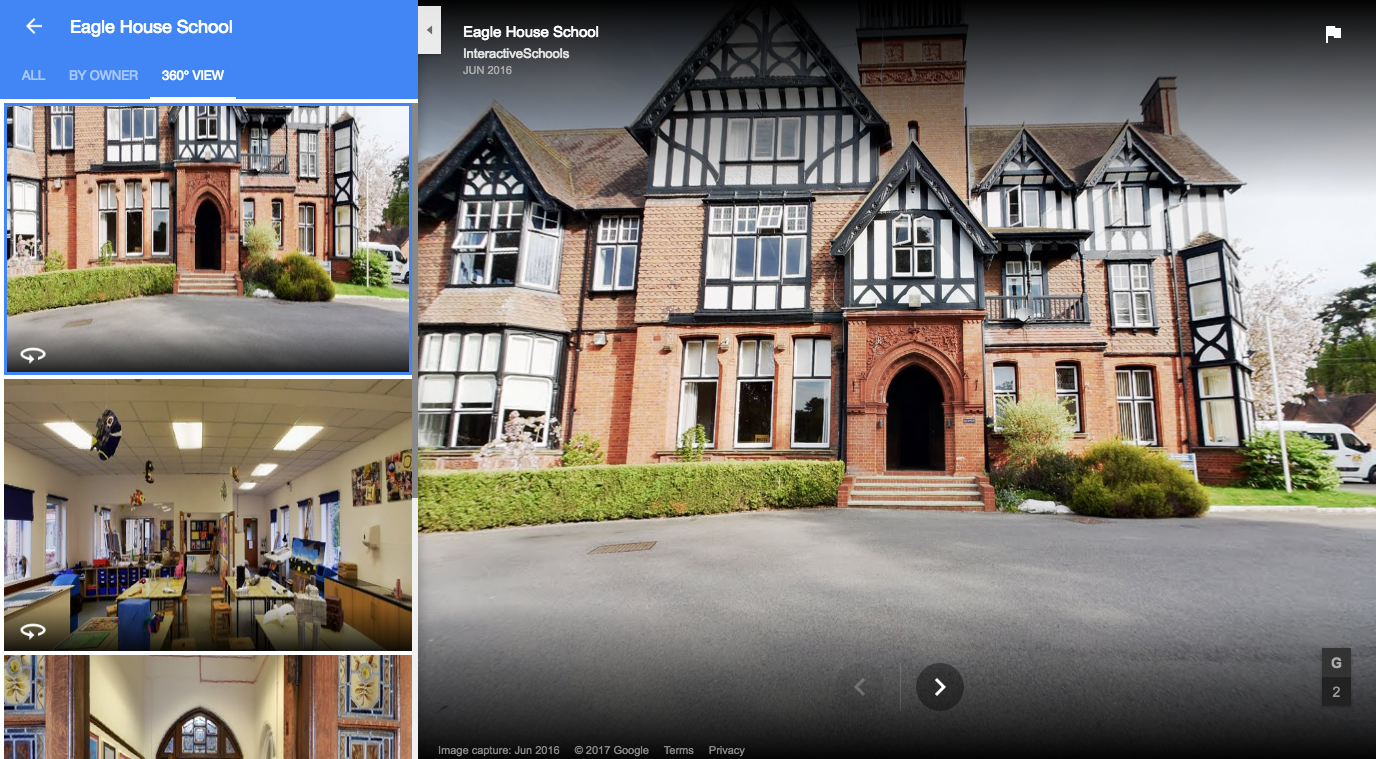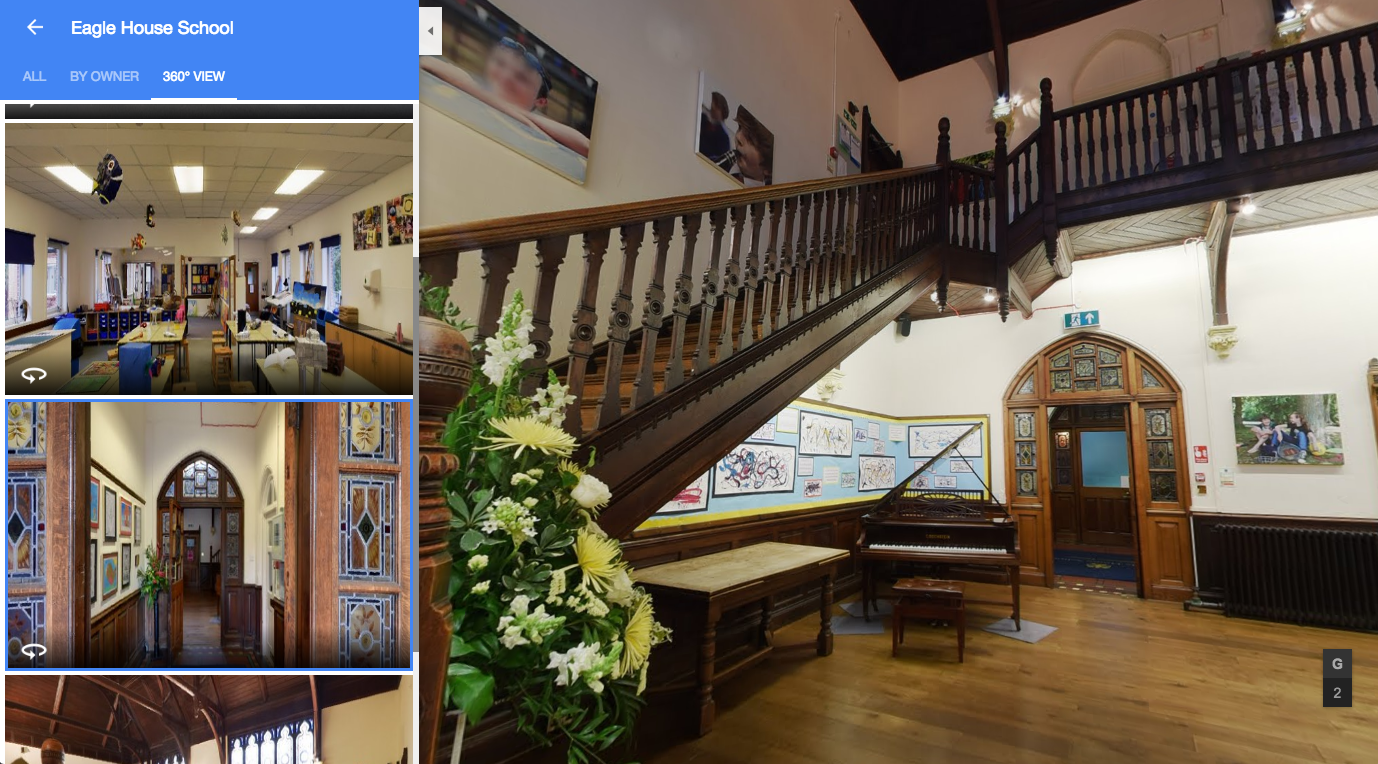 [3] Live Streaming
Schools are going to do a lot more live streaming compared to 2016. Many have already experimented with Periscope (Twitter) and Facebook Live, and found successful engagement with parents.
We talked about this back in 2015 - and it's worth taking a look at how we saw schools using streaming services.
We are going to see more schools offering tours of schools through live streaming.
Schools will either offer open-group style tours - open to anybody (or select people) at a specific time. Or one-to-one personal tours.
We'll start to see more social media posts like this:
"Our next LIVE Open Morning will be at 11am on Tuesday 7th February. We'll be going live on Facebook and Twitter - sign up now to receive a notification!"
Here's a quick guide to getting started with Periscope - and some tips for Facebook Live.
[4] Head Vlogs (#NotBlogs)
A few years ago, the question was: 'Should my Head be blogging?' Today, the question is around vlogging.
As we see vlogs becoming the new TV shows, schools are looking to their Heads for vlogging material.
Now, we don't expect heads to go into full 'vlog mode', capturing and editing every part of their day. However, we expect some to turn their weekly newsletter, or blog post into video format.
You've got to play to your strengths. Some people are great in front of a camera, some are better face-to-face, and others through writing.
If your head is excellent in front of a camera, it may be worth exploring video content / vlogging.
Or maybe a student vlog… ;-)
[5] Progressive Web Apps
Native apps have been difficult for schools to manage, and costly to build, run, and support.
We're expecting more schools to go down the web app route - particularly 'Progressive Web Apps' (PWAs). These are:
Google has publicly evangelised PWAs, as they combine the best of web and mobile apps. Think of it as a website built with web technologies, but feels and acts like a mobile app.
A school's main website is for prospects - anybody that doesn't know about the school can get an immersive understanding of the school.
This leaves parents being communicated to in a different way. A parent app breaks down the friction-to-use barrier. Instead of finding the app in the app store, downloading it, installing it, opening it - a PWA is instantly available to use, eliminating unnecessary stages.
[6] Even Harder to Stand-Out
Competition around the world is heating up for schools - and the challenge to stand-out is becoming much harder.
Schools believe they are different, and they are. But many schools find it hard to articulate why they're unique in a way that resonates with prospective families.
We expect more schools to place an emphasis on their creative advertising - through their website, online ads (Google, Facebook etc.) and offline advertising.
We're finding more and more so that the creative is the variable to a successful marketing campaign for a school.
A campaign with great creative leads to:
A deeper emotional connection with a school
A better understanding of a school
More visits to the website
More people talking about the school
More enquiries
There are many benefits to a campaign - with the emphasis placed on your school's particular goals. Is it to increase numbers? Change perception? Become more well-known?
Take a look at some of our latest creative campaigns.
And do let us know if you'd like to find out more.
What do you think? Are you seeing these trends? What do you think schools should be aware of in 2017?
Let us know your thoughts in the comments!
Oh yes, and don't forget to subscribe to #SchoolBytes for more weekly school marketing articles!