Escape school: Top 7 holiday locations for tech lovers
It's here! The summer holidays are finally here! Time to wind down and leave the hectic school day behind.
To help you on your way, we've picked out some awesome locations found across the world. But they all have a twist; they all involve technology in some innovative and fascinating way. So, to recharge your cells, here are our 7 top places to visit for tech lovers.
Bionic Bar | Royal Caribbean Cruise Ship
Instead of taking a flight, how about going by boat? Travel with Royal Caribbean and you're likely to come across their robot bartenders.
Yes, robots making your drinks! Check out the 360° video below.
The robot bartenders can produce two drinks per minute, and make up to 1,000 each day. Guests create an order - whether a custom request or standard menu item - on a specially programmed tablet. They keep track of their order on the digital screen next to the bar; once it's ready the bartenders release their drink.
Henn-na Hotel | Nagasaki, Japan
It wouldn't be a tech lovers' article without mentioning Japan. While the nation has plenty of amazing places to visit, this hotel in Nagasaki is a must see!
The Henn-Na Hotel, which translates as the 'weird hotel', is a world first. With velociraptor check-in staff and automated bell boys, the hotel lives up to its name.
Hotel owner, Hideo Sawada, wanted the Henn-Na to be "the most efficient hotel in the world" by reducing manpower and having 90% of staff be robotic.
The Void: VR theme park | Dubai, UAE
Theme parks often make great use of technology. But The Void, with locations in UAE, Canada and USA, takes tech to the next level.
Step beyond reality into "hyper-reality" and experience VR like it's never been experienced before.
Haohai Robot Restaurant | Harbin, China
Are you working up an appetite yet? Don't worry, we've got you covered. The Haohai Robot Restaurant in China is the perfect place to refuel after a long day's trek.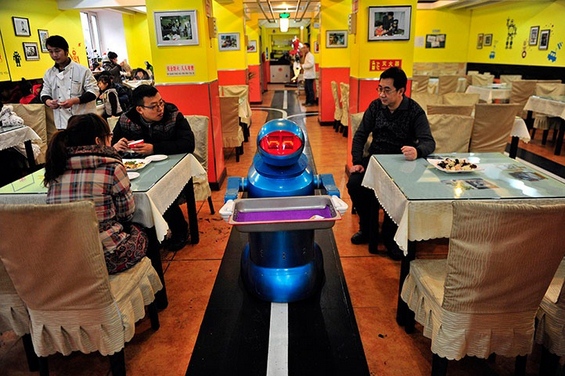 Everything at the Haohai is operated by robots, from the chefs through to the waiters (who wheel about on little tracks). Guests are warmly greeted by a front-of-house robot with, "Earth person, hello! Welcome to Robot Restaurant!"
UFO Yacht | Global
OK, so not strictly a holiday location (and not strictly in existence just yet) but these are certainly worth a mention - who knows, perhaps you could buy one as a holiday home?
The UFO Yacht is the brainchild of Pierpaolo Lazzarini, a automotive and yacht designer. The yachts are designed to look like a UFO straight out of a B-Movie. They are made up of two half-sphere shells, one above the water and one submerged, which are divided by a floating disc that doubles as a sundeck.
Inamo | London, UK
If food cooked and served by robots isn't quite your bag then try out Inamo instead. This restaurant, based in London, is the capital's only "interactive" restaurant.
At Inamo, your table doubles up as your menu and in-restaurant entertainment. Interactive projections on your table surface enable you to set the mood, discover the local neighbourhood, entertain you with retro games, watch your chef on a live-cam feed, and even graffiti your table top.
Oh, and you can order your food off it too.
Juvet Hotel | Alstad, Norway
At first glance you might be wondering why we've picked the Juvet Location Hotel. It describes itself as "a synthesis of raw Norwegian nature, cultural history and modern architecture." It is quite simply a stunning location, unlike anything you have likely seen before. Check out the video below for a quick tour.
So what is it? Why is this perfect for a tech lover?
For the keen eyed, you may be thinking that this places looks familiar. That's because it is the same location used for the 2014 film Ex Machina. Yes, you get to visit the same place that the award winning sci-fi extravaganza was filmed at!
While we can't promise you'll meet any robots that could pass the Turing Test, it is still a beautiful place to visit. In fact, it might be just the place to take a few days digital detoxing, something we should all practice from time-to-time.
There we have it - 7 cool places to visit. Have you got any you'd like to add to this list, or have you actually been to any of the ones above? We'd love to hear all about them. Please add your comments below.
Happy travels. ✌️