4 camera apps to help improve your school photos
In today's marketing visual content is king! Platforms such as Instagram are proven, effective ways to engage with your community.
For schools the most engaging visual content will be pictures of your pupils. Your community (i.e. parents) will typically scroll through a social channel's feed looking for one thing - their kid!
While this is good for getting engagement, it is very difficult to keep everyone happy - you're not going to systematically photograph each pupil so all parents have the same opportunity to spot them...are you?
Instead, you need to be able to create highly engaging visual pieces that everyone will engage with (regardless if their child is pictured or not). So, how do you stand out on channels like Instagram? What tools are out there to add a professional finish to any photo you snap?
Here are our 4 favourite apps to add a whole new element to your visual content and up your marketing game. 👍
Snapseed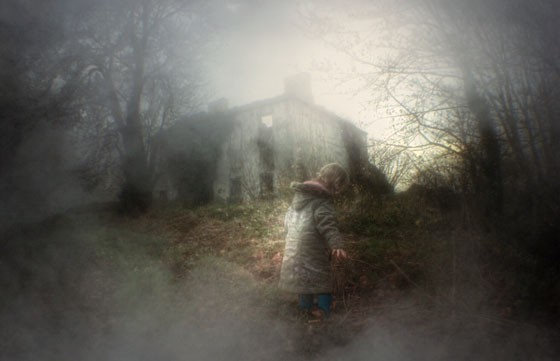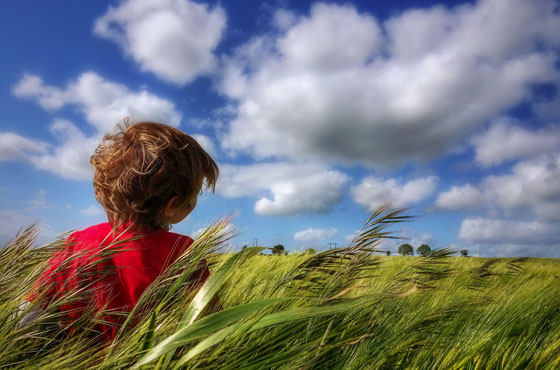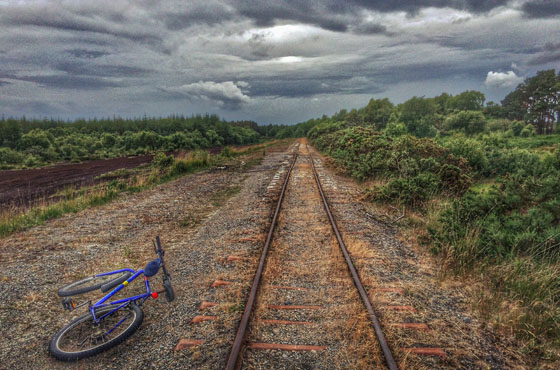 Snapseed is a powerful, FREE photo editing app, available for iOS and Android. While Instagram does have photo editing capabilities, Snapseed does it all better plus more!
What many users find appealing about Snapseed is its accessibility - it strikes a nice balance between amateur and professional photo editing. There are all the usual editing tools (e.g. exposure, saturation, contrast and brightness) for newbies. But for the more advanced users there are lots of additional tools.
Spot Repair, for example, helps remove unwanted elements from your photo and Transform is a fantastic tool for altering the perspective of your snaps. On top of this you can have access to a huge suite of pre-made filters, making it easier to make your pictures look awesome and social media ready.
The latest version of Snapseed (2.0) is also "non-destructive", meaning all edits made can be easily undone or removed, and you don't lose the original photo. This means that you have a lot more freedom to explore Snapseed's many features without the fear of making irreparable changes.
Finally, Snapseed was built from the ground-up as a mobile app - meaning its interface is suited for mobile devices. The design is intuitive, swiping left and right to gauge the "strength" of your edits, and tools are laid out in a simple grid.
VSCO Cam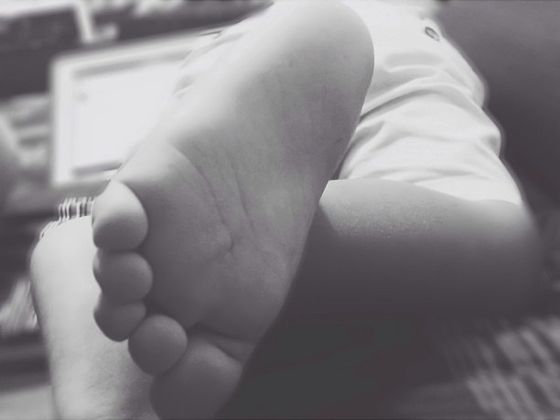 VSCO Cam is a little different from Snapseed. First and foremost it is a camera application, and not strictly a photo editing app. The strength in VSCO Cam comes from the high quality pictures you can take using it. It is free for both iOS and Android - with in-app purchases available.
As a camera application VSCO Cam is brilliant! Colours are vivid, images sharp, whites are well balanced, and auto-exposure works really well. For many, this application is highly preferable to a phone or tablet's in-built camera application.
You can take customisation further using preset filters (the app comes with 10 free ones and more can be purchased in-app) which can be fine-tuned using sliders.
If you don't fancy using any preset features you can adjust most aspects (such as: exposure, temperature, contrast, saturation, tint, shadows, and a lot more) using a simple slider tool. As well as this there are handy features such as cropping (with a very useful aspect adjustment feature) and picture rotation.
A final and very useful feature on VSCO Cam is how the ability to instantly share your awesome photos. The app can share to Instagram, Facebook, Twitter and any compatible app you have installed on your mobile device (e.g. Messenger, WhatsApp, and Gmail).
Pic Stitch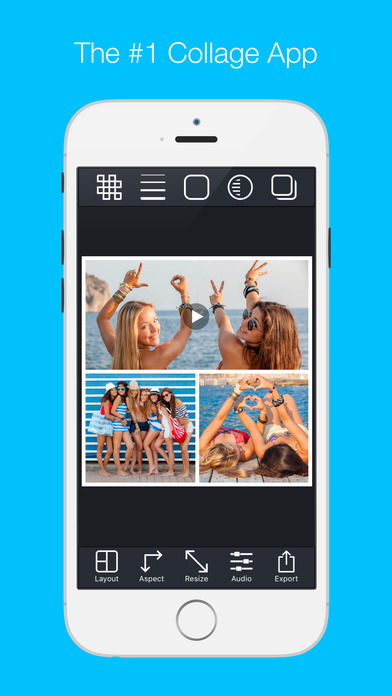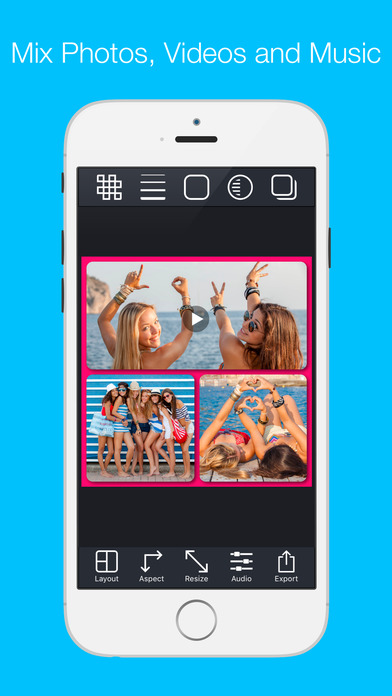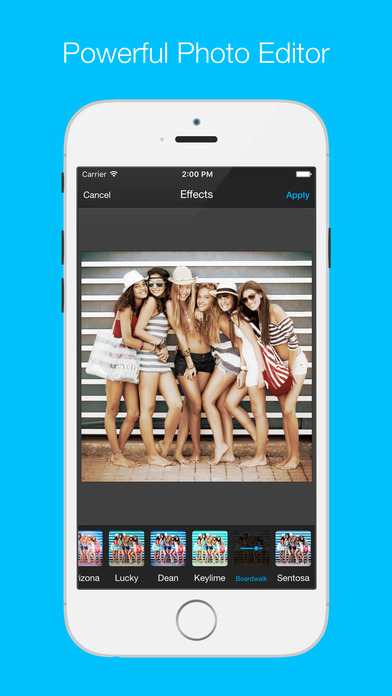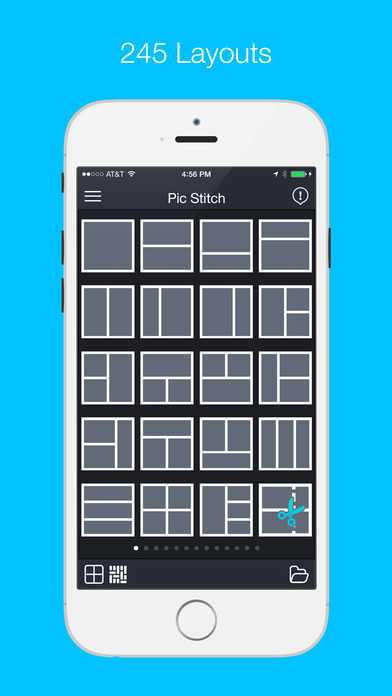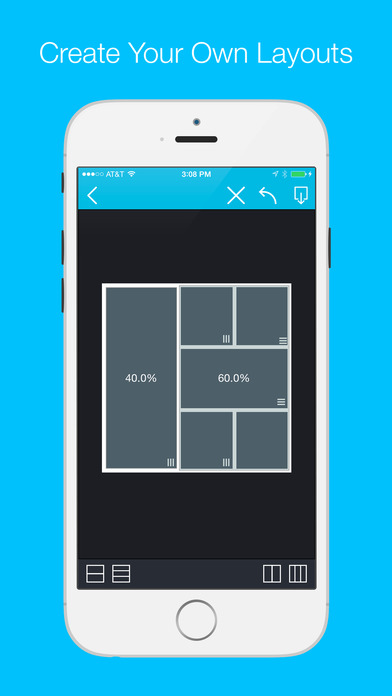 Pic Stitch is all about creating collages to share as one beautifully framed image. This is especially handy if you have lots of good content that you want to merge into one piece of super content. 😎 You can download for free on iOS and Android.
What makes Pic Stitch a useful collage creator is the freedom to create something bespoke. Not only do you have all the usual photo editing tools - which can be used on individual photos or across the entire collage of photos - but you also have the ability to create your own template. This means you are able to design a layout that fits around your imagery instead of making your imagery fit around a layout. 👍
With Pic Stitch you can take the usual photo collage one step further by adding in other media elements such as music or videos.
As with VSCO Cam, sharing to your social media channels is really easy. This added ability to share instantly to channels such as Instagram means you can curate great content in the one app and effortlessly share it to another.
Camera+
Camera+ is only available for iOS. Priced at £2.99 on iPhone and £4.99 on iPad, we consider this a small price to pay for a great camera and photo editing tool.
The team behind Camera+ designed the app around the slogan It's all about one thing... great photos! And that's exactly what they delivered! You could consider Camera+ as the Pro version of the iPhone's native camera application - offering you lots of new features that the standard camera app cannot.
For example, features such as Touch Exposure & Focus help give you greater definition over how light or dark your photos will come out as. An enhanced digital zoom and good stabiliser means you can take more steady pics of objects further away, and overlay grids will give you a better sense of composition.
Another great asset with Camera+ comes with he Clarity feature. This allows you to transform your normal pic into something spectacular with just a tap of a button. Clarity:
analyzes your photos and makes several intelligent adjustments that magically bring out details and breathe life into dull photos. There's no need to futz with complicated and confusing controls…behind the scenes, we do all that and more for you through innovative "smart-processing".
Finally, Camera+ has the usual suite of advanced photo editing tools, as in-depth and intuitive as Snapseed and VSCO Cam, as well as preset filters - called Scenes - and a selection of Frames to add those finishing touches to your photos.
Equipment
With so many amazing stories being told on a daily basis in schools, it's important that you have the tools to capture these stories. The apps above are fantastic for adding ✨STAND OUT✨ elements to your photos but they do require equipment to be used properly!
Knowing what equipment is out there can be a minefield to navigate (there are A LOT of cameras to pick from). Luckily though, we have already written a blog exploring this very subject - complete with our recommendations! 😎 You can read it here.
We hope that this article has opened your eyes to some fantastic tools you can use in your visual content marketing strategy.
We'd love to hear your thoughts about everything you've just read, or perhaps you have some alternative ideas / apps to the ones on here. Please comment below.