Why social media training is important
Schools! Marketers! Senior Leadership Teams! The fear of social media in schools is driven out of ignorance, not knowledge. Social media is not a fad. Unlike cassette tapes or CRT televisions, we will be seeing a lot more of social media over the coming years.
It's time to pull your #Head out of the ground and start to truly understand how to use it! More importantly it's time to leverage these content channels effectively as part of your school's marketing.
Humans are driven by the need to be happy, part of a community and the need to share good news. Social media is the conduit to achieving this. Don't let someone else's negative story impact your brand. Start telling your own #SchoolStories, and watch your community share, like and retweet your content around the world.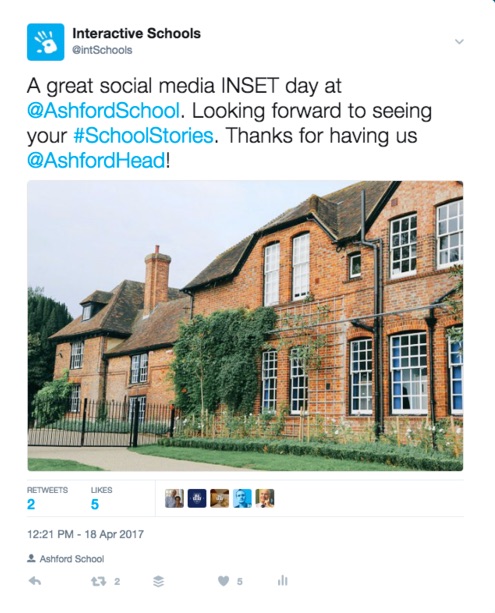 Social media is no longer just a job for the marketing person. People all around schools are using social media to communicate with audiences - whether that be with prospects, parents, pupils, alumni etc. Anybody within the school, who uses Twitter, or any other social media channel, is marketing the school - they are a voice of the school.
With this, it is essential that people using social media (or thinking about using it) are trained to ensure they use it effectively.
Understanding the social media channels
Channels can be broken down into content types - statuses, photos, videos, audio, blog posts, publications, etc. By understanding each content type, and their relevant channel, you can start to choose the right channel to post to.
Twitter is the most popular social media channel for schools – but is often severely misunderstood. Generally, this lack of understanding can be boiled down to how the channel is used - its purpose and its functionality.
Do you know how to design and brand your Twitter account? How about using lists? Do you know the difference between a Reply, a Retweet and a Like?
By understanding each social media channel, you can also minimise any of the common social media mistakes. Here are some mistakes we see schools doing all the time:
starting a tweet with an @ sign
sharing everything at once
using hashtags unnecessarily #WhyWhyWhy
auto-posting to other channels
You don't do any of these…do you?
Consistent branding
Naming is crucial on social media, to ensure your accounts are visible and consistent with each other. The design of your accounts must be consistent with each other. Yes, there should be some personality on each account, but it still needs to be branded.
Training ensures that people understand your school's brand online, and why it needs to remain consistent across the multiple channels and accounts being used.
Aligned goals
Your school must have a cohesive strategy and plan on how to best utilise social media. By training everybody within the school, you can ensure that everybody understands how social media aligns with this strategy.
Effective use
Social media is about telling inspiring and exciting stories. What happens if something exciting happens at the school? Tell it! But we want to ensure that the stories happening at your school are being told effectively.
What tone of voice? How should I link to content? What content should I link to - news, video, tweet, publication, photo / gallery, audio, resource?
Which channels should I use!??!
Not every channel is relevant to your school.
Take Pinterest for example. For schools it certainly has its uses: e.g. amazing for collaborative projects, between pupils and teachers, in design tech or art lessons But this is true only if it is being used effectively and if there is a plan and strategy behind it.
We've got some great ideas on how you can use Pinterest, Instagram, SoundCloud etc. We'd love to share these with you.
Measuring
Training can show you how to measure the effectiveness of your social media usage. By understanding how to measure social media, you can make data-driven decisions.
Content can be improved by measuring the success of previous campaigns - what worked? What didn't? Measuring the optimum time to share, and where content is being shared, can greatly improve your engagement with your community.
Using third-party tools
Social media can be more productive with the use of third-party tools. This will help you and others save time by optimising social media usage. Just like the social media channels themselves, there are tons of tools you can use! Understanding the pros and cons of each is key to choosing the right ones for you - Hootsuite, SproutSocial, TweetDeck, Buffer, SocialCandy etc.
Social media training
Social media training IS important for schools - it is too useful a tool to be neglected by a lack of understanding.
We are here to help! We see the future of school marketing residing within social media and want to see more schools sharing their unique, amazing #SchoolStories with the world.
We offer training days for schools - where we will come and talk to the whole school, to inspire their part in marketing and sharing all those great #SchoolStories. We will help define a strategy that can be employed across the entire school - making you ✨stand out✨ from your competitors. Pretty cool right!
Thanks for reading. 😃
We hope that this article inspires a revolution within schools - bringing them up-to-date on issues of social media and technology. It is too easy to try and ignore the changes in learning and marketing, thanks to the drive in technologies over the past 10 years, but it is essential to recognise that tech will only continue to evolve. Without the right training and the right comprehension you will be left behind...and being left behind is no longer an option!